Directed By:
Alex Zamm

Starring:
Emily Osment, Cody Linley, Brittany Curran, Alex Winzenread and Tobin Bell

Rated PG
Genre: Horror
Format Used: Blockbuster DVD
Contains: Mild Violence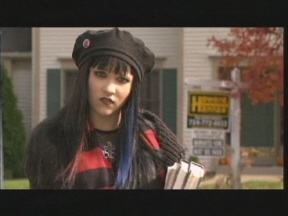 THE PLOT:
It's hard to fit in when you're new in school, and Cassie liked to scare. Cassie buys a book that has a warning not to read allowed. When she ignores that warning to get back at her brother Max it unleashes the Evil Thing from the darkness and now Max has been captured and if Cassie and Sean can't find out a way to kill the monster then Max and several others will be fed to the Evil Thing's babies.
ZEDD'S OPINION:
I never really got into Goosebumps, but this is more intense then Goosebumps. The monster was cool, the acting was great. Emily Osment of Hannah Montana fame does a great job as Cassie. To be completely honest with you I didn't recognize her at first when I saw the DVD cover. Now there are some minor character issues. Priscilla, the mean girl got annoying at times and the kid that played Max. But was a minor complaint compared to the whole. 9 STARS.

VOLTRON'S OPINION:
I agree with Zedd, this is a great movie. But not a perfect movie I didn't care for the way they left it open, not to give anything away. But I think that could have been better. But there is this great song by Emily Osment. 8 STARS.

ON THE POSSITIVE SIDE (+ HITS):
+ EFFECTS (The creature effects are incredible.)
+ CAST (The cast does a great job.)
+ EMILY OSMENT (I don't know if this movie would have worked without her.)
+ STORY (The story works.)
+ I DON'T THINK ABOUT IT (A great song.)
ON THE NEGATIVE SIDE (- MISSES):
- CHARACTER ISSUES (There are some minor character issues.)
- ENDING (VOLTRON thought they could have left it open better.)
AND FINALLY...
- FAN BASED (If you aren't one for the work of R.L. STEIN, tne this isn't for you.)