Directed By:
Byron Howard
Chris Williams

Starring:
Miley Cyrus, John Travolta, Susie Essman, Mark Walton, Malcolm McDowell, James Lipton and Diedrich Bader

Rated PG
Genre: Comedy
Format Used: My Own DVD
Contains: Mild Violence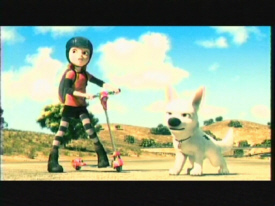 THE PLOT:
Bolt is sworn to protect Penny from the forces of the evil Doctor Calico, but when Penny is kidnapped and Bolt the Super dog can't stop it. He goes on a cross country trip to save her. But Bolt is a star of the hottest TV show around but nobody ever told him that.

Now with Mittens the prisoner and Rhino the ultra fan, they go try to rescue Penny and take a journey of self discovery.
ZEDD'S OPINION:
Pure Disney magic. The cast is great, the animation is wonderful. And two words folks, MILEY CYRUS. She was wonderful as Penny. To be honest with you, I don't think the film would be as perfect as it is with out her. That said, this instant Disney classic should be in your collection. Buy it now! 10 STARS!

VOLTRON'S OPINION:
I agree with Zedd, this is the best film of 2008. Not SLUMDOG. This should have been nominated for best picture, I mean it. 10 STARS.

ON THE POSSITIVE SIDE (+ HITS):
+ MILEY CYRUS (She was great, they should have given her an Oscar nom for best supporting actress if you ask me.)
+ ANIMATION (Great animation.)
+ STORY (The story works.)
+ CAST (All the cast was just great.)
+ FUNNY (It was funny)
+ TOUCHING (I was almost in tears in places.)
AND FINALLY...
ON THE NEGATIVE SIDE (- MISSES):
- NOTHING (There is nothing wrong with this movie, every one with a brain and a heart will love this movie!)